Wondering about realistic ways to make money online in today's era? Well, if you have a laptop and a good internet connection nowadays, you can earn money online in many different ways! Just make sure that the money you earn is legal.
According to research, almost fifty percent of the population of the world has an internet connection nowadays. So, instead of wasting your time scrolling on different sites, and social media platforms, why not utilize it to earn some extra cash?
The use of the internet has become extremely common everywhere you go. It offers you a great way to utilize your time in doing something productive apart from your regular job. This is why a lot of people are searching for how to make money online.
Also, if you are looking to earn some extra money and cannot find a part-time job then worry no more! A computer and an internet connection are all you need to make that possible.
Truly, there are a lot of options for you to earn money online. Some might take more time to set up. But the result is just as fruitful as any other job, if not more. Let's go through a couple of options for you. Just pick the one according to your preferences and start earning money right now!
So, whether you are at your home or anywhere else, let make sure to find the best business opportunity tailored to your skills and interest. Furthermore, these are my top and realistic ways to make money online.
1. Blogging
Blogging is an excellent way to earn money online. It is true that it takes some time to get to the level where you can earn a decent income. But the journey is so worth the effort. Just check this list of some of the most popular bloggers and the income they are making on a monthly basis: Top highest paid bloggers
There are many ways to make money with your blog. One thing that comes up when you look for how to make money online quickly through your blog is Google Ads and later through high sustainable premium ad networks such as Mediavine (With Mediavine you can earn up to 7 times more than Google Ads, but the as network require a minimum of 50K sessions per month to be accepted).
You must have seen ads displaying on many websites you've visited. These ads can be easily set up on your blog. They will help you to quickly drive target traffic to your blog and make money once your blog begins getting traffic.
If you are keen to start earning money through blogging, I have you covered with my guide on
And of course, for those who still have questions that are not covered by the above articles. I have created the most complete FAQ (frequently asked questions) guide to cover any type of question that you may have: 120 FAQs about blogging as a business.
2. Consulting
Another legal approach on how to make money online is through consulting. This helps when you are a specialist in any type of field. You will discover that a lot of people will happily pay to get consulted on your topic of expertise.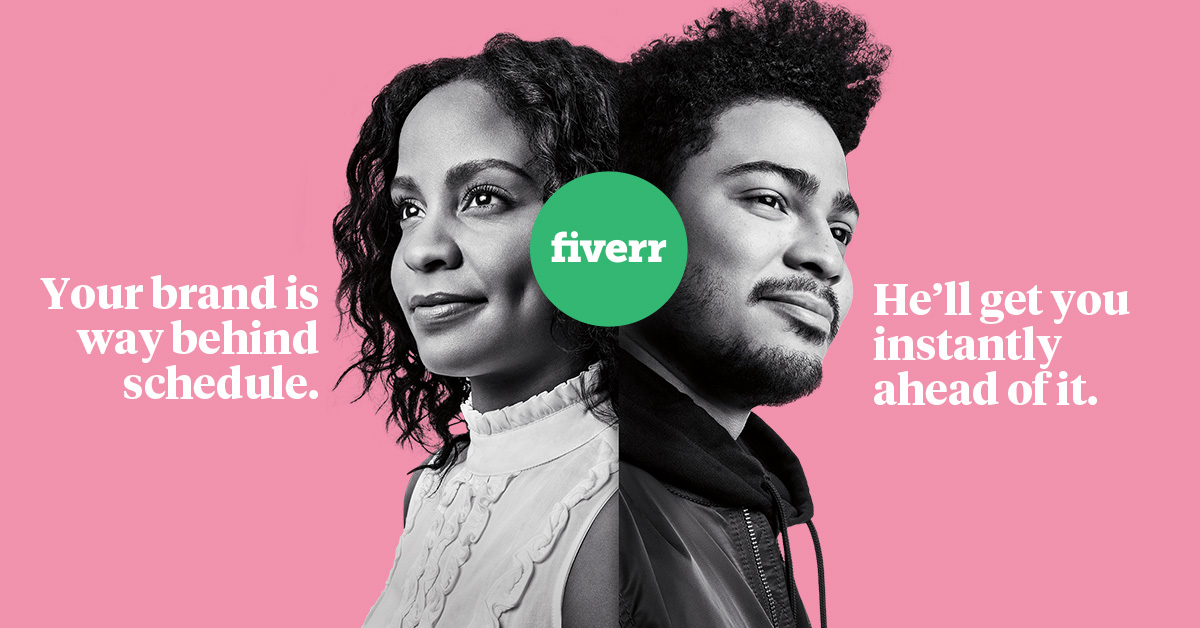 There are many sites where you can provide your consulting services. Fiverr is one good example that will let you easily set up your profile and start selling your consulting services online.
3. Startup
Building and growing an online startup is a difficult task. But once achieved, it can bring you a lot of money. You just need to create an online startup effectively. Make sure to write a business plan before starting any startup online. Here a guide on how to write a business plan for an investor, a bank, or a business partner with step-by-step parts through the traditional and lean startup plan business plan: How to write a business plan – Ultimate guide.
There are many types of online startups you can build. Just make sure you aim for something you are comfortable doing and have the right skills for.
I have seen so many entrepreneurs failing to build a successful business online because they did not have the skills and experience in the topic of business they started but instead rely on external people to make their business work for them.
That is a very bad approach and is doomed to fail for sure. Instead, try to build your startup with the right approach, expertise, and most importantly, trust.
Once all this is achieved, and you're up and running, you are likely to earn a lot of money from your online startup.
To help you out starting your own startup business online, check the following list of the most profitable businesses – Ultimate guide as well as the top online business ideas to make money.
4. Podcasting
Internet video traffic is accountable for 82% of all consumer Internet traffic with more than a million minutes of videos streaming per second crossing the internet according to Cisco.
So it comes as no surprise that the podcasting format has had significant growth in recent years. If you have ever considered creating a podcast to share your interests and knowledge with the world, you are certainly not alone.
Podcasting as such is on the rise with more and more people switching their 9 to 5 to full-time podcasts. Businesses and organizations have also joined the trend and introduced podcasts to grow their business visibility online using podcasts to boost their reach and followers.
This is truly one of the smartest approaches for both individuals and businesses to grow your influence as well as making money online. All you need to do is focusing on your area of expertise and facilitating an online digital broadcast or podcasting.
My dear friend Nikita Zeiloth working as a digital marketer at Naturvetarna, the Swedish Association of Professional Scientists, is an excellent marketer who quickly realized the importance of video and introduced podcasting to increase the association's reach and followers online through their podcast channel: Naturvetarna.
"The best thing about running a podcast is that you get the chance to interview such interesting and knowledgeable people. People I would never have met if it were not for the podcast. After each episode, I learn something new and I love to take part in people's stories."
If podcasting sounds like the right business for you, I recommend you checking my list of the best free podcast hosting services: where to host your podcast.
5. Software development
You can make an enormously fruitful business if you develop and design software that helps other people with specific tasks online.
Although major programs are designed by software companies, numerous effective programs are actually made and promoted by freelancers.
If you are a programmer and have a business idea that will help solve some sort of problem for any specific target group online, make sure to put your programmers' hat on and start developing it. Software is a great way to make a great amount of money online.
With mobiles and tablets on the rise, it's no wonder apps are getting more and more trendy. All from kids related apps to video or audio editing software, there are literally thousands of success stories from people making money online from their developed apps.
6. Books (Selling books online)
One of the oldest ways to make money is still going strong. Very strong if you ask me. Books are trendy as never before, which makes this alternative one of the most simplistic and traditional ways to make money online.
If you are a good and passionate writer and have an interesting story or skillset to narrate, writing a book is an excellent way to earn money online by selling your books.
Many people have tremendous success selling books related to their expertise online and earning a fortune, as for instance, many entrepreneurs are looking on a daily basis for business books to help boost their business. As we all know, reading is the key to success no doubt!
Nowadays, in fact, you can finish the whole procedure of composing, distributing, and advertising a book from the very comfort of your couch.
Many sites will allow you to upload your book without getting a proper distributor involved. People can even order your book online from these sites and you will earn a passive income from each sale.
7. Freelancing
One of the top popular and most effortless approaches on how to make money online is by starting a freelance service.
If you start searching online, you might notice that a lot of work is available as many businesses are desperately looking for freelancers to help them solve different tasks. It is indeed one of the fastest ways to earn legitimate money online money.
To save you some time, I have gathered the best freelance job websites to find a freelance job. And for those already working and who want to make an extra living through freelancing, here my step-by-step guide on how to start freelancing while working full-time.
8. Affiliate programs
Another very rewarding method to bring in passive income online is through affiliate programs. People are really making a fortune through affiliate programs every single day.
The primary element required here is to set up a website, blog, or a simple landing page and start offering an affiliate product or service.
Affiliate programs are one of the best ways to make a considerable amount of money by selling affiliate products or services such as Etsy or Amazon products.
When your landing page is set up. You want to work on getting traffic to your landing page through different ways such as SEO, PPC, or social media.
Every time a visitor clicks on the product link on your landing page and buy the product, you will get a percentage of the sales. To give you some inspiration, check the list of the top bloggers that are making a fortune through affiliate programs.
Now that you know the benefits you can get from affiliate programs, I have the most complete list of affiliate programs all with their pros and cons for you to choose the best affiliate programs tailored to your area of interest. Following my list of the best affiliate programs.
For those new to Affiliate marketing, I have created a simple step-by-step guide for you on how to start affiliate marketing: The ultimate guide.
9. Vlogging
There is nothing more trendy than vloggers today. According to Kevin Allocca, YouTube's head of culture and trends, anyone can be a celebrity by next Saturday.
Vloggers are really making a fortune through their YouTube channels. Creating your own YouTube channel is a great idea if you are searching for fame as well as making money online.
Vloggers of all ages are earning money online through their Youtube channels every single day. Many of them are making more money per month than the president of the united states. Just look at the highest-paid YouTubers, it's crazy!
Ryan Kaji – $26 million
Dude Perfect – $20 million
Anastasia Radzinskaya – $18 million
Rhett and Link – $17.5 million
Jeffree Star – $17 million
You can create your YouTube channel on many topics such as education, technology, life, or entertainment. The more views you get on the channel, the more money you will make. It's as simple as that.
So, for those of you deciding to become celebrities and make money online through vlogging, I have you covered through my step-by-step guides.
10. Webinars
Another methodology is utilizing online classes or webinars to create your courses focusing on your area of expertise and earn money as a result. With an online class, you offer a ton of tips and guidance by sharing your skills and expertise with others.
There are many websites you can join to provide online courses or webinars. Udemy is one perfect example, as a typical Udemy instructor is cited to earn between $265 to $1K per month for each published course.
Currently, Udemy is one of the most exciting teaching platforms in the world and so this new #IdeaFreelance entry is dedicated to those who want to make money on Udemy as instructors.
If you want to earn a passive income with Udemy, you should know that there are many categories and options for sharing educational content. We all have the ability to teach.
The following list shows the most popular categories in Udemy, there are of course many more:
Development and programming
Business
Finances and accounting
IT and software
Productivity
Personal development
Design
Digital marketing
Arts and manuals
Gastronomy
Photography
Music
Languages
Health and fitness
If you are the creative person who decided to share your skillsets online via webinars or online classes, the next step for you is to choose the best online learning platform to join.
Although it is the most recommended one, Udemy is not the only teaching platform that provides online teaching through its platform. Following is my list of the best online course platforms to start your teaching career online.
11. Search the web
Search the web and get paid! Now did you know that you can earn money online by doing what you already do on the web? And no I haven't gone mad, this option of making money online exists for real. It is probably the least demanding skillset on this list as it requires the least effort.
All you need to do is to download and pin an add-on to your browser. It will help you find a few paid searches along with the normal ones, and voilà!
Gmee.com is one of many browser add-ons that pays you for searching the web. You can use the browser of your choice as long as you can install the add-on and start your searching journey through Google, Bing, Yahoo, Amazon, or even eBay – simply click on the result that interests you while browsing and collect the reward in your piggybank.
I have to be honest, you will never be able to buy the latest Tesla by searching the web. But it is a simple and effortless way to get some extra pocket money. It's 100% safe, and it works by showing sponsored results alongside your normal search.
Each and every search results (SERP) contain a cash reward (usually around 15p). If you find an interesting link, just click on it and collect your reward.
12. Uber driving
Uber is another easy way to earn money online as a Uber drive just by creating your account and procure cash by driving travelers around.
Uber is a digital platform that has been changing transport services in an innovative way, creating an interconnection system so useful and functional that it has truly broadened the horizon of the modern economy.
The ease offered by the Uber application service is, in a sense, an example of the growth and transformation of the business model.
This collaborative platform provides a transport service more efficiently using information technology to connect drivers and passengers in different cities around the world.
So if you like being on the road and find Uber to be a good money-making business for you, feel free to download the application to get up and running. All you need to have is a driving license and a qualified vehicle in good working condition.
Also, do not forget to keep a check on fuel and maintenance costs. And remember, if you have a good background and score, you will start earning money immediately.
13. Airbnb (Rent a spare room/apartment)
Airbnb is as trendy as ever. If you have a flat or a spare room, now you can rent it out on Airbnb to earn some extra cash. Making your home or extra room accessible as rental destinations can give you a worthwhile income.
In theory, one of the main advantages of renting a room or a flat on Airbnb is that it is very simple: just register on the platform, create a listing with a description and some high-quality photos of what is being rented, choose the prices and publish. Surely, travelers interested in visiting your destination will start contacting you and some rentals will be closed.
Make sure to invest in a good camera and a photo editing software to grab those excellent pictures that need to be both high-quality and appealing.
A picture is worth a thousand words, and in the world of rentals, pictures are the deciding factor to successfully rent your properties.
Thanks to the versatility of Airbnb, you can publish different types of properties, ranging from rooms, houses, apartments to treehouses, igloos, and more.
Airbnb currently has a presence in more than 191 countries. Every day, more than 100,000 daily reservations of different properties are made in more than 81,000 cities around the world.
The good thing about this platform is that you can make money with Airbnb without the need to make large investments or have to leave your home.
When you list your space, you will be generating income in a simple and safe way, since you will be able to completely control availability, rules, and prices.
Among the rules, you can define certain requirements for guests such as check-in and check-out times, access within the property, and any other condition that you consider before renting your property.
Other advantages? Both the registration and the advertisement are free, what is charged is a host service commission for each reservation (it is a small amount, 3%) to cover the management.
Although you might need to spend some money to tidy up and maintain the place, it would be all worth the effort!
An important lesson to note: Make a detailed and thorough rental agreement to avoid problems in the future.
Finally, Airbnb provides tools that make it easier to satisfy the demand in your area and send you the money through the method that is most convenient, once the client arrives at the property.
14. Online surveys
If though they don't pay a lot, online surveys are one of the easiest ways to make money online. You can produce a little amount of income by conducting surveys on the web. Just do not expect to generate a lot of income from it because truly there is not much to make.
Many sites even provide you with free vouchers in place of cash. You can search for all the survey sites available to find a suitable one for you. Online surveys can be a great way to quickly get some extra pocket money.
There are a number of companies that offer money in exchange for filling out surveys. Although there are some pages where you have to pay to access these services.
If you are a student, you are unemployed, you want to earn extra money for your hobbies or you are traveling the world as a backpacker, here is an excellent way to quickly make money online.
All the surveys are accessible online, they are done through specific web portals, so it does not matter to have an exact physical location. You can do them from anywhere in the world. All you need is a computer or mobile device and an internet connection.
It is important to mention that taking surveys will not make you a millionaire, and surely, neither will it result in a passive income, but it is a great complementary activity to make extra money online.
The paid survey business has been around for many years. It consists of giving your opinion on different products, brands, events, etc. In this way, you will accumulate exchangeable points that can be cashed out as money.
There are certain platforms that may seem unreliable as they ask to make a paid subscription before starting this activity. We do not recommend registering on any platform that you have to pay to earn money. Now, each one is the owner of his shares.
Here is my list of the best paid survey websites you can try. All these web portals are free, you don't have to pay anything to register.
You must first register on the platform of your choice. Once registered, you will have access to a series of surveys. Some platforms send you surveys based on your profile and the data you have filled out in the registration process.
Surveys are paid based on the size of the surveys. Some can be done in a few minutes, others, on the other hand, will take about 20 minutes. Logically, those of longer duration tend to have better rewards.
15. Social media influencer
Truly this is one of the best alternatives to make a considerable amount of money as many organizations are paying social media influencers with trustworthy audiences a fortune to brand their items on their social media profiles.
This is in fact a highly desired profession, especially by the youngest. A relatively easy to start and maintain profession, which today reports significant economic benefits due to the rise of eCommerce and the 2.0 era.
Indeed, and I am not going to lie to you, it is not easy to become a social media influencer. it takes time and hard work. But it is all worth the effort when you start getting requests from different businesses that offer you money to brand their products and services.
As a social media influencer, You will be influencing your followers to use specific products or services by advertising them on your social media channel. Businesses will pay you handsomely if you have a big following. The more followers you have, the more money you will make.
The reality is that an influencer can be anyone who has one or more profiles on any of the popular social networks such as YouTube, TikTok, Instagram, Facebook, Twitter, or even Pinterest and Snapchat.
According to a report, on average, the cost estimate an influencer charges:
Facebook influencer pricing: $25 per 1000 followers
YouTube Influencer pricing: $20 per 1000 followers
Instagram Influencer pricing: $10 per 1000 followers
Snapchat Influencer pricing: $10 per 1000 followers
Of course, what they pay you if they hire you will depend on the niche you are covering, the quality of your audience, the number of engagements as well as the number of followers of your social network.
Furthermore, there are influencers who by their status or fame are mega-influencers. I am referring, of course, to celebrities, usually actresses and actors. We can also include elite athletes in this group.
Fortunately for you, only a very small portion of businesses can afford to promote their products with this group of influencers.
Without diving too far into the subject, Us Weekly, for instance, reported that Kim Kardashian can be paid anywhere up to $500,000 for a sponsored Instagram post.
There are also influencers who earn more or the same money from their main job as from advertising. The clearest example is Cristiano Ronaldo who apparently earns more from Instagram than he does from playing football for Juventus.
The time of influencers has come thanks to the internet and more specifically thanks to social networks. Why? Because of the great diffusion that can be achieved. All this makes it possible to earn money as an influencer.
Finally, I will leave you some tips that could come in handy for you when developing your social media profiles.
Focus on a specific niche.
Post regularly.
Do not neglect any social network.
Register and grow your audience on the platforms mentioned earlier.
Automate any process as much as possible (without losing interaction with your followers).
Publish content optimized and adapted to a social media platform.
Answer all the comments you receive on your profiles.
Track the spread of your content.
Use paid marketing when necessary (if possible).
So, if you are keen to start your social media influencer career, make sure to go through the different strategies and skills you need to master in order to become the next superstar: Social media guides for influencers.
16. eBay (Selling old games)
I had to include this in its own category! I mean, did you know that a copy of Super Mario Bros still sealed in plastic after 35 years was sold for $114,000! It's crazy, but most importantly, it does give you a hint of the value of old games and consoles on the second-hand market today.
Video games have long ceased to be an occupation for children and adolescents to become mainstream entertainment. It's a huge global market, and many times the development budget for a game exceeds that of the most advertised movies.
In reality, any product that caters to gamers is bound to find success in the current market. With gaming being more popular than ever before, people are always looking for old games that they cannot find anywhere else. Nostalgia is one hell of a drug!
If you are someone who was born in the 1980s or 1990s, then there might be many games that were part of your childhood, but you can't find them in any game store.
This means that old games have really high demand and psychological value. So if you have any old games, or know any place you can get old games in good condition, get on the bandwagon as your dusty wishy-washy game may just make you rich.
17. Etsy (Sell your crafts)
Millions of people sell their crafts on Etsy. Etsy is the ideal platform to sell your handcrafts and other crafted items. It lets you showcase your true creativity and also earn money at the same time.
Many people out there have certain skills and talent that would have gone to waste had it not for platforms like Etsy. These days, even if you don't have a relevant job, you can still use your exceptional skills to earn a decent income online through Etsy.
If you are one of those people who enjoy making crafts, selling vintage items or doing any DIY (Do it yourself) project, you have most likely heard of the Etsy platform.
Etsy is an online platform that allows you to be part of a community of online buyers and sellers under a system very similar to eBay or Amazon, for example, but with the particularity that it focuses on crafts, handmade items, antiques from collection (also known as "vintage" items) and even digital products, but always keeping that link with creativity and doing it yourself.
The platform was born in New York and has been active since 2005. Currently, Etsy operates in many countries around the world.
The Etsy catalog is not limited at all, since within this world of handicrafts and manual confections there are dozens of categories and subcategories, within which Etsy users can sell their original creations at the price they consider appropriate. Next, let's go on to introduce the main categories of great popularity on Etsy:
Jewelry and accessories
Clothes and shoes
Home and decoration
Pet Products
Wedding and party supplies
Toys and leisure items
Prints on plates, photographs, paintings, sculptures, and art in general (both physical and digital)
Collectibles and antiques
Plants and flower arrangements
Sewing products
Etsy is an international online marketplace where people from all over the world flock to make, sell, buy and collect unique products. An ideal place to show your projects and reach the whole world.
If you are a craftsman and create unique handmade products and you are interested in showing them to the world, this platform will allow you to reach all those people and be able to make money online doing what you like the most.
I will have to add that It's will not be easy at first, but if your product is liked by the community, and you take the right steps, you can really generate a very good income.
If you believe Etsy is the platform for you to build your online business then I have you all covered with all the skills and information you need to know to make your business idea a success on Etsy, check the step-by-step ultimate guides below:
18. Healthcare (Bring your medical knowledge to the online arena)
These days you can find many websites and apps that let people ask questions to their doctor and even get prescriptions (if you are a certified doctor) without the need to leave your home.
If you are a doctor or have the relevant medical knowledge, you can use these applications to become an online doctor or an online medical consultant.
These platforms work in such a way that people can ask you questions related to medicine or certain medical conditions, and you as a doctor can charge them by answering their questions.
The scope of these websites is limited as it is always better to visit a doctor if the condition you are going through is serious. But for many other more day to day requests, providing these services is of great help to both patients and countries' overall health care systems.
19. Photography (Selling photographs)
There are hundreds of websites out there that let you sell photographs online. If you have a passion for photography and take amazing and unique photographs, you can sell these photographs online and earn a decent amount of income through those photographs.
Photography is also one of the businesses that can allow you to work while traveling. In fact, if you specialize in travel photography it will even be necessary to create your own portfolio online as by creating a good portfolio you can earn money by transferring exploitation rights to brands and agencies for the use of your images.
Selling photographs online is not complicated, truly, the most difficult part of this business is to have a good portfolio or showcase of quality photos.
Many portals charge a commission for each photo you publish for sale, so the maintenance cost is variable and will depend on the number of photos you sell. But there are also those alternative portals that let you sell your pictures for free.
The strategy here is in fact not about selling photographs at a high price, it is about reaching as many people as you can and selling as many photographs as possible for a lower price, that is, selling the right to use the photographs for commercial and advertising use.
Following is a list of my top favorite portals to sell photographs online. All these sites are well-trafficked and used on daily basis by almost all businesses looking to enhance their stories with quality photographs.
There are several photography portals that are affiliated with Getty Images Affiliates such as Getty Images itself, iStock, ThinkStock, Photos.com, … so you can sell your images on various portals by joining them.
Fotolia
Fotolia is one of the microstock leaders to sell your photos, it has 42 million photos so if you want to stand out you have to choose your keywords (words with which your photos are identified) well.
Adobe Stock
Adobe itself has its own market for flat rate photos, they are Fotolia partners, so if you upload your photos there you can sell them on this platform.
Shutterstock
Shutterstock is a global marketplace for artists and creators to sell free images, videos, vectors, and illustrations in more than 150 countries.
iStockPhoto
iStock.com went live in April 2000 as a free photo-sharing website. In 2001, they created their business model to sell their image library at affordable prices to everyone.
Freepik
In Freepik you can find photos, icons, and illustrations. Although they specialize more in vectors than in photographs, it is an excellent portal to market your creations.
Dreamstime
Dreamstime.com acts as an agency that provides quality images to professionals, along with helping professional or amateur photographers to sell their portfolios online, for each transaction you can receive between 25-50% of the price.
Bigstockphoto
In addition to a microstock portal, they also provide online video and photo editing courses. For every photograph you sell, they can pay you between 0.5 to 1 dollar for each download.
Canstockphoto
Founded in 2004, Can Stock Photo is one of the largest and oldest microstock photo agencies.
Most of these websites or portals let you set your own preferred price for your photographs. So if you have a high-quality camera and have been taking some really great photos, then it's time for you to put those photographs to use.
If you are serious about selling your photographs online, make sure to check this article to get information on some of the most prominent photo editing software for photographers to enhance your photos before posting them for sale.
If you need any inspiration regarding the photos you should take. following is my best list of sites with breathtaking stock photos to unlock your creativity.
20. Amazon
Amazon is the number one online retail platform. It can be accessed from almost all over the world. So if you sell on Amazon, you have a potential customer base of billions of people.
If there is a compelling reason for Amazon to be the marketplace par excellence, and to embrace any of its models, that is its ability to always offer the customer the best experience throughout the purchase process.
Although you should be aware of this fact, we can affirm that, in addition, selling products on Amazon is a guarantee of:
Simplicity in the sales process, from registration to delivery at destination.
Quick response to the customer in the event of any possible setback.
Scope and sales opportunities at an international level.
If you decide to build your business on Amazon, make sure you sell quality products at a competitive price. One of the best things about selling on Amazon is that you can sell a range of different items on the platform.
In addition to selling products on Amazon, you can also check out other websites like Shopify and Cafepress.
In comparison to Amazon, these websites let you create your own online store. You can build up and promote your very own brand through these sites. Another prominent website to sell your goods is Craigslist. It is one of the most popular sites in the USA.
21. Just Answer
Just Answer is a great platform to earn money. Everyone is sort of an expert in something. So all you have to do is register yourself on the website and answer questions related to your field.
People on Just Answer ask questions, and they are looking to get answers from the relevant experts. So no matter what you are an expert in, you are bound to find someone looking for answers to questions related to your field.
It hardly takes a few minutes to answer questions online if you are an expert. You can do this when you are waiting for the commercial break to end or when you are just lying down all comfy in your bed. So it is a very professional yet convenient way of earning money online.
For you to be accepted as an expert in Just Answer, you need to have a bachelor's degree, university studies, or a certificate that validates more than 2 years of experience in a field.
Following this link, you will access the registration page where you can send your document after registering as a candidate (it has no cost). Once the application is submitted, you will be placed on a waiting list.
After being accepted, you will become a "Stage 1 Expert", which means that you will get a 25% commission for every question you answer successfully. The experts of stage 4 get to charge 50%.
When you exceed the accumulated $20 (about € 15), you can receive the payment through PayPal. Payments are sent monthly.
22. Pawn online
Pawning things has gained a lot of popularity in recent times, thanks to shows like Pawn Stars. Even though the trend of pawning things might have lessened a lot over the years, pawn stores are still very much prevalent in the modern world.
The best part about pawning things is that you can get easy money on things that a bank would never even consider collateral.
The 21st century demanded the pawn stores be digitalized. This is why you can find many great pawn websites online where you can pawn or sell your items.
Some pawn stores have even opened their own online stores to facilitate digital pawning, buying, and selling of goods. Pawn America and other similar platforms are ideal for the said purpose.
23. Online trading (Investement)
This one can go both ways. You can either earn money or lose money as well. So be very sure of your probabilities before you start investing in online trading.
If you have financial sense and know how the market works, then online trading can yield very profitable results. However, if you are not well-versed in the financial market dynamics, it is better that you stay away from investing online.
It is almost impossible to give a net salary range for how much money you can make as a trader. As online trading is accessible to everyone, naturally we find domestic traders of all levels.
In fact, a young independent trader is very likely to earn less than an experienced trader from the world of finance.
In the same way, someone who is dedicated to trading as the main activity will generate more profits a priori than a trader who is active only a few hours a week.
Finally, even though it is a legal obligation, most independent traders, in fact, do not report their income, in whole or in part. Therefore, statistically, the figures that we could present would not reflect reality.
But even so, I will try to offer an estimate amount of money that a regular online trader make based on:
Your return on investment (ROI)
The initial capital of the account
The costs of operating
So what could an online trader's salary look like in one year? Let's consider:
Average monthly rent
Initial capital
This will give you an idea of ​​the different incomes that a trader can earn overtime.
| | | | |
| --- | --- | --- | --- |
| Initial capital | 2% monthly return | 5% monthly return | 10% monthly return |
| $ 200 | $ 253.65 | $ 359.17 | $ 627.69 |
| $ 1000 | $ 1268.24 | $ 1795.86 | $ 3138.43 |
| $ 5000 | $ 6341.21 | $ 8979.28 | $ 15 692.14 |
| $ 10 000 | $ 12 682.42 | $ 17 958.56 | $ 31 384.28 |
| $ 50 000 | $ 63 412.09 | $ 89 792.82 | $ 156 921.42 |
| $ 100 000 | $ 126 824.18 | $ 179 585.63 | $ 313 842.84 |
As you can see, your average monthly return and starting capital can make a significant difference to the amount you earn from trading.
So, now that you know the benefits of online trading, IQ Options is a very popular online trading program. You can also find hundreds of other programs online.
24. Apps (Create and launch an App)
If you have the right skills, then you can create and launch an app. If done right, launching an app can be very profitable. If it picks off, it can literally make you a millionaire.
Make sure the idea you have for the app is good and functional. The app should be beneficial and easy to use. You can then launch it on a range of different platforms.
You can make money in many different ways when launching your app. Besides selling the entire app, you can put a price tag for downloading your app, through in-app purchases, micropayments, or even ads.
If you want to make money with your application using micropayments. In this case, you can offer your app to be downloaded for free and offering additional premium features once the user is inside. In other words, certain functionalities are only obtained if the user pays for them.
You will have absolute freedom to create these so-called micropayments on your app. Within these integrated payments you will have to differentiate between two types.
The first is the payment of a single-use. It is a payment that the user has to make only once and he/she will then unlock that premium functionality.
The second type of micropayment is the opposite. It is a payment that is made every time that premium functionality is needed.
Another very popular method especially on the rise in the world of apps is making money through subscription.
Subscriptions are nothing more than a type of recurring micropayment. Normally the applications that offer subscriptions are free to download but to access certain features you need a subscription, that is, pay recurrently every X time. In most cases, this period is monthly or yearly.
So, Besides paid applications, micropayments, and subscriptions. Is there any other type of income method left?
Well yes, perhaps the most popular of all, applications with ads.
In all the above cases the income comes directly from the user. It is the user himself who pays for the application with his/her money. However, there is a way to obtain income without costing the user money, and it is through third-party advertisements.
If you have advertisers who are interested in paying to publish their products or services within your app, you will be then making money by providing an ad space within your app. This can be done in two quite different ways.
Make money with AdNetworks
The first is to use the so-called AdNetworks. The AdNetworks are companies that are dedicated to connecting developers and advertisers. As creators of the application, you only have to take care of configuring where and when you want to show these ads and the AdNetwork will do the rest of the work.
Make money with your own advertisers
The second option is to sell the space yourself. Contact the advertisers and set the price yourself. This means that you will have to manage payments, the types of ads that we will show, analytics, and reports to customers.
In summary, to make money with an app you can opt for several forms of income: paid downloads, micropayments within the app, subscriptions, and ads.
You have to bear in mind that when it comes to charging the user, in the vast majority of cases you are required to use the payment gateways of Google and/or Apple. So, when calculations your price, you have to bear in mind that 30% of the offered price will go to these two payment gateway providers.
So hopefully now you have a better idea of how to make income with an app. Now you just have to develop your app, and later figure out which method is the best fit for your business model.
25. Twitch (Stream videos online)
Twitch is by far the most popular games streaming platform out there. Many celebrities have also started their own twitch streams. If you are a passionate gamer, this can be a great gig for you as you would make money online while enjoying playing your favorite games. How fun is that!?
First, try to look for games that most people don't stream on Twitch. This will help in lowering your competition. Make the stream as entertaining as possible to attract more followers.
Secondly, when achieving a good following base, there are four ways to monetize your Twitch streaming, although some pay better than others.
Get paid through monthly subscribers (subscribers)
Get donations from viewers
Advertisement on your channel
Take advantage of affiliate programs and sponsorships
Making money with Twitch through paid subscribers is at the moment the biggest source of stable income for successful channels. Your channel receives 50% of the amount paid by the subscriber, that is, € 5 per month (the rest is charged by Twitch). For the most successful channels, which have, let's say, an average of 10,000 viewers or more, the distribution is 70/30. The channel charges € 3.50 per subscriber per month. But very few achieve that.
Why do users pay the subscription if they can access the content for free? They do it mainly for three reasons:
Enjoying an advertising-free experience.
Have access to additional functionalities (such as personalized channel stickers).
To be able to converse more easily with the protagonist of the video, since Twitch restricts the conversation with the creators only to subscribers.
But, as you can imagine, only a very small portion of viewers subscribe to the channel. But if you get 400 subscribers, that would mean an income of € 1,000 per month already. To achieve this you have to offer quality content and many hours of broadcast.
Another way for you to make money from streaming is to get donations from fans and viewers. In this case, all the money goes to your channel. And it depends on each creator to encourage that way of generating income. Some channels include on their screens a ranking of the biggest donors of the day, of the week, or of the month, with a button for donations.
Advertising it another way to make money with Twitch. for the majority of viewers, that is, those who are not subscribed to the channel, there is advertising. But, in the basic version of Twitch, an ad is only broadcast when the user (viewer) connects to the broadcast. Part of the money corresponding to this advertisement is paid to your channel, the rest is kept by the platform.
Now, when a channel is more relevant, and meets a minimum set by Twitch, it can generate more advertising revenue. Specifically, you get the right to press a button that displays advertising to all currently active viewers. In theory you can press it as many times as you want, although of course, doing it too often can tire the audience and lose your audience.
A channel capable of having about 1,000 viewers on average can get around € 400 per month of advertising, and that without pressing the button.
My favorite way to make money on Twitch is through sponsorships and affiliates. Again, here are two leagues: the moderately successful Twitch accounts and the top channels that have tens of thousands of viewers. Only those in the second category will be able to really take advantage of sponsorships. Affiliate programs, however, I have seen it working for more normal channels as well.
Sponsorships consist of getting paid to try a new game, to attend a conference, to record a promotional video and post it on YouTube, or to post on your social networks. In general, brands focus on the best-known twitchers to promote their products. The amounts can be indecent. Some channels can charge thousands of dollars per hour to play a particular game.
Affiliate programs consist of getting a commission for the sales of recommended products. The typical case, for example, is that a gamer shows his viewers a new helmet that he loves, and shares a sponsored link so that they can buy it on Amazon. I'm talking about the eCommerce giant because it has an affiliate program that allows you to charge up to 10% of the sale price. But there can also be direct agreements with brands.
Affiliate or sponsorship income can be highly variable. I advise you to try and value those that are worth it and those that are not.
26. OnlyFans
OnlyFans was launched in 2016, and since then, the platform has gained a lot of prominences. There is a misconception that Only Fans is only for adult content creators. This is, in fact, not true.
People can earn money by creating content related to all genres. You can also sell your cosplay images, stories, or videos on the platform. It is a UK-based platform, but people from all over the globe are making money through it.
OnlyFans is for a creator to receive money in exchange for offering exclusive content. From guitar lessons, personal training, crafts, or any exclusive content of interest that you can think of.
Being a subscription service, it is important to know how much money you can earn with OnlyFans. For this part, you choose the price of your subscription yourself, but the minimum is $ 4.99 per month (Bear in mind that OnlyFans keeps 20% of your final earnings).
By having the possibility of unlimited subscribers, you can earn a lot of money with OnlyFans. Many people such as Erica North, Miss Henley, or King Noire are already doing it.
The main way to generate money in OnlyFans is as early mentioned, through membership or subscription fees that your fans pay for access to your content, so you must make sure you have quality content and in a reasonable quantity so that your subscribers feel satisfied and keen to join your channel.
In addition to the monthly subscription fee, at OnlyFans you can earn money through tips that fans give to content creators in exchange for private conversations, videos, photos, and other items that are not otherwise available to the community, also called Pay content or Per View (PPV).
The minimum value for tips is $ 5 and there is no maximum. You can also request in your publications that in addition to giving "likes", users leave a tip if they enjoy your content.
Among the content that you can promote through PPV are photos, videos, personalized meal plans, cookbooks, personalized training plans, etc; But you can also sell physical products that you want to market to your fans.
You can use the bulk messaging that OnlyFans enables to deliver PPV content to your current subscribers instead of posting it to your feed. The message you send may contain a preview (blurred) of the content for added appeal, this message must also contain the price to unlock it.
Use a similar strategy by posting a message on your other social networks that will not only alert your current subscribers to newly available content but can attract new subscribers.
To sell products, you need to create a tip menu and make a list of everything you want to sell with the tip you aspire to receive for them, physical or digital.
For physical products, you should consider and guide your fans on the shipping costs associated with delivering the product and its feasibility, especially when it is from one country to another; It is also important that they exchange additional information such as your email and telephone number to coordinate the shipment and delivery.
27. Virtual assistant
The job of a virtual assistant can entail a lot of things. Whether you work online or have a traditional brick and mortar business model, you can still find a virtual assistant online to help you with different business-related things.
You can simply understand the work and duties of a virtual assistant by words itself, i.e., Virtual in this scenario means Online, and assistant means anyone who helps you or assists you in a certain thing or matter.
So when you get "any type" of assistance from someone online, then that person becomes your virtual assistant. The best part about being a virtual assistant is that you can do an extensive range of things to earn online.
Some of these things don't even require any special skills. From data entry work to calling someone to wake them up at a certain time, you can find some very easy, unique, and sometimes uncommon virtual assistant tasks online.
So if you are looking to earn online as a virtual assistant, then you can register yourself on a specific virtual assistant website like 24/7 Virtual Assistant. You can also create relevant virtual assistant gigs on freelancing websites like UpWork and Fiverr.
28. Graphic designs (Sell your creative art)
Are you a professional graphic designer who is looking for some extra cash on the side? Well, then you have come to the right place. I can help you find the relevant platforms that can help you earn money through graphic designing.
Graphic designing has a high demand in the online business arena. It is one of the most popular forms of money, making skill in today's world. You can work as a graphic designer on a range of different freelancing websites.
You can also try out specialized graphic designing websites like 99Designs and Creative Market. You can create high quality and high paying gigs and designs and earn a "more than decent" income on these platforms.
29. Sell clothes and accessories online
Before moving forward with this point, I would like you to take a look at your wardrobe. I am sure you will find a range of different clothing items and accessories that you haven't worn or used for ages. So why not sell them and make some extra money?
You can find a number of different social media groups where you can sell clothes and accessories. In addition to these social media groups, many websites are specifically designed for this purpose.
If you are looking to sell clothes and accessories to earn some extra cash, you can check out the following websites.
30. Online reviews
Did you know that you could earn money by reviewing apps, websites, and software? It is one of the easiest ways to earn money online. Hundreds of different websites and platforms let you review different things and earn money.
All you have to do is register yourself on these websites and start reviewing things you used. You can also earn money by reviewing the different places that you have visited.
Final Thoughts
Once you have explored all the different ways mentioned above on how to make money online, it is now time for you to pick the one option that suits you the most. Make yourself up for it and start earning money online now!